Non-traditional student plays first year with the Wolf Pack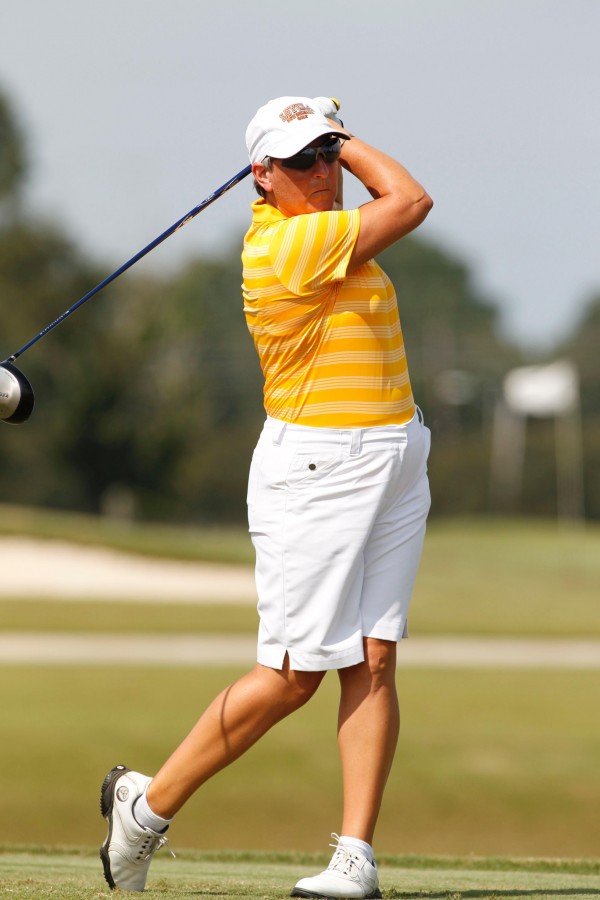 SARAH SZIGETI
November 8, 2013
Sarah-Anne Smurlick is a junior both in the classroom and on the golf course. She's also 49 years old.
Smurlick, mass communication major, spent the first part of her life living in Toronto, working as an architectural technologist for a local power utility. She spent 24 years working there before deciding to do something that would change her life.
"I was at a place in my life where I could do something radical like this. I was between Loyola and another school, and Loyola seemed to be the best fit," Smurlick said.
Smurlick said the golf program was the main reason she came back to college. The combination of the golf program with the journalism program in the School of Mass Communication was why she chose to be a part of a college community again.
And because she wanted to ease her transition from Toronto, she decided she felt more comfortable living on campus.
"I was coming from far, far away into an unfamiliar area and it just seemed to make the most sense," she said.
Head coach Lisa Tinkler has experienced the age gap herself. Tinkler played college golf at the age of 39, and said that she felt lucky to be able to give someone else the same opportunity given to her. Because of that, she understands Smurlick a little better.
She may be older than her teammates, but Tinkler said golf helps bridge the gap.
"As far as teammates go, they share a common bond of golf, which makes it easier for her to interact. On the playing field, she is currently our scoring leader, but she doesn't take on an authoritative position," Tinkler said.
Megan Keck, biology freshman and one of Smurlick's teammates, feels that Smurlick's years of skill and understanding are largely beneficial to the whole team, including herself.
"I can tell she's passionate about the game," Keck said. "It's nice having an older teammate because she likes to share a lot of her experiences and she's great at giving advice to all the girls."
With Smurlick's age and previous golf experience, the question of eligibility arises: Is she eligible to play in college? And for how long?
Smurlick said the National Association of Intercollegiate Athletics granted her two years of eligibility, and she is in the first of those two.
Smurlick said she might be interested in convincing the NAIA to allow her one extra year of eligibility. She was told it would take her about 3 years to complete the credits she needs for her major, and she said she would love to play golf all three of those years.
"I understand that they want to make it a level playing field, but in the first tournament I placed third," she said. "Am I really that different from the two people that finished before me?"
This question is one that Smurlick said she might continue to ask in the next year or so, especially if she wants to continue playing golf after she graduates.
Smurlick also said she has a plan for her golf game once she graduates.
"My one long-term unattainable goal is to be the oldest rookie on the LPGA Tour," Smurlick said. "I know I have lots left to improve, and maybe these two years will bring me to the next level."
Sarah Szigeti can be contacted at