Athletic Department gladly welcomes new era
Student athletes excited about scholarships returning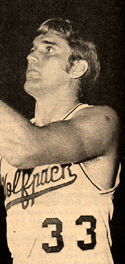 Loyola has not had scholarship basketball players since Ernie Losch and John Kardzionak suited up for the Wolfpack. That will soon change.
Interim University President Rev. William Byron, S.J., has given the athletic program six full scholarships for next season, three for each of the men's and the women's basketball teams.
The basketball players are excited, believing the scholarships are a step in the right direction.
"I'm ecstatic," Dawson McCall, history senior, said. "It's been in the works since I've been here. It's good to see them get the ball rolling. I couldn't be happier for the program."
With full scholarships, the program can now recruit athletes that normally would not come to Loyola, said marketing junior Matt Truax.
Amidst the excitement is the hope that this is only the beginning.
"I'm excited," said Truax, who is sitting out this season after having major knee surgery. "I hope they build on it. It's a huge step, but I hope it's not the end."
Losch and Kardzionak left Loyola to play for Tulane in the 1972-73 season after Loyola cancelled athletics at the conclusion of the previous season. Thirty-two years later, the program will have scholarship players back on campus.
According to assistant athletic director Brett Simpson, other sports teams are not upset that only basketball will be receiving scholarships.
"No, I don't think so," said Simpson, who is an assistant baseball coach. "I think the presidential ad hoc committee is working on a plan for what's going to happen in the future as far as more scholarships for basketball and other sports. It's a positive step for the whole department."
As for the basketball team itself, Truax doesn't believe having three members of the team on scholarships will affect the chemistry of the 'Pack.
"Part of you wishes you could be in that boat," he said. "But it's no big deal. It's just going to make the team better."
Added English writing senior Jonathan Hernandez: "All the guys are on the team for school first. We're here to get a good degree. There's such a chemistry on the team that it (three scholarship players) won't be a problem."
Chad Barnes, who starred for the 'Pack but transferred to UNO this year, was shocked when he found out about the scholarships.
"I couldn't believe it. But that's good," he said.
Fans, too, are excited about the possibilities that scholarships can bring to Loyola's athletic program. Music education sophomore Scott Callahan, who has attended nearly every home game since last year, said that the scholarships will bring more attention to Loyola.
"It's good to see more money being put into the athletic program," Callahan said. "The players work so hard just for the love of the game. Maybe more people will come to the games. I think it's going to improve both the teams and program as a whole."