Saints lose at home to the Broncos in drama-filled finish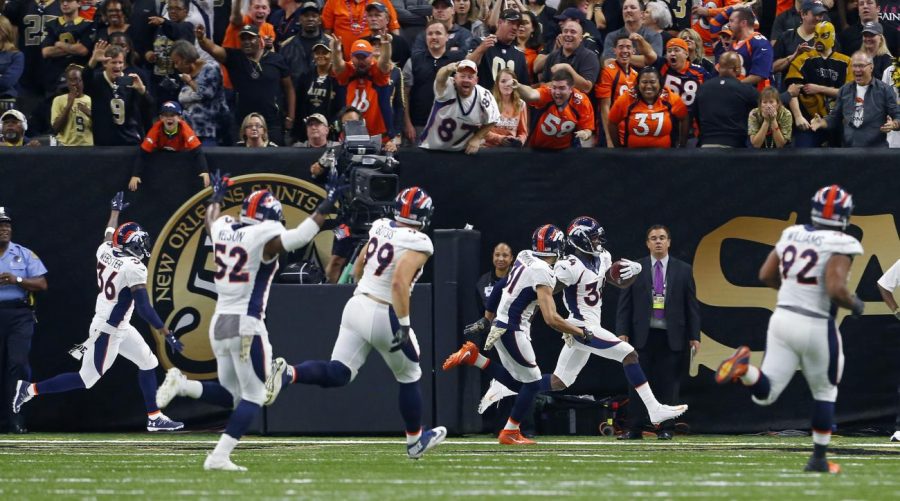 Despite a season-high four turnovers, the Saints went toe to toe with the mighty (7-3) Broncos but came up just short in perhaps one of the wildest finishes of the 2016-2017 season.
Down 23-17 late in the fourth quarter, Drew Brees led his team down the field and capped off a 6 play, 75 yard scoring drive with a phenomenal 32 yard touchdown pass to Brandin Cooks—who made an excellent catch between two defenders—that tied the game at 23 with 1:22 left in the game.
Following the game-tying touchdown, the Superdome's ecstatic sellout crowd was quickly silenced when Denver's Justin Simmons timed the snap perfectly, leaped over the center, and blocked Will Lutz's extra point attempt. The ball was quickly recovered by Will Parks and returned all the way down the sideline for two points; giving the Broncos a 25-23 advantage.
The Saint's onside kick attempt was safely recovered by Denver who knelt the game away and escaped New Orleans with a gutsy 25-23 victory.
"Shoot, we're still in disbelief," said Brees, who finished with 303 passing yards, three touchdowns and two costly interceptions against Denver's league-leading pass defense. "It's tough to play a game like that, fight as hard as we all did, then have it come down to something like that."
The highly-scrutinized Saints defense silenced the critics on Sunday—holding Denver to a season-low 4.1 yards per play—and finished with a season-high six sacks in the loss.
Fans have gotten used to witnessing the Saint's high-powered offense carry the team, but on Sunday the Saints defense stepped up when it mattered the most and kept the game within reach. However, it was turnovers that marred the Saint's chances of a victory.
Throughout the season, Saints rookie receiver Michael Thomas has proven to be a reliable target for Brees as he currently leads the team in receptions (51), but on Sunday he fumbled the ball twice in the fourth quarter.
Sean Payton, head coach of the New Orleans Saints, expressed his concern and admitted that Thomas will need to work on ball security.
Among other things, Payton was optimistic after the game and praised the defense—"I thought there were a number of things that were encouraging. Defensively, we did a real good job but turnovers in a game like that are significant especially when you end up with four like we did. We were really fortunate to be in the game at the end," said Payton.
The (4-5) Saints will need to quickly shift their attention to the (3-6) Carolina Panthers as the two NFC South rivals are set to clash on Thursday, Nov. 17 at Bank of America Stadium in Charlotte, North Carolina. Kickoff is set for 7:25 P.M.