The Wolf Pack's historic season comes to an end in the NAIA Tournament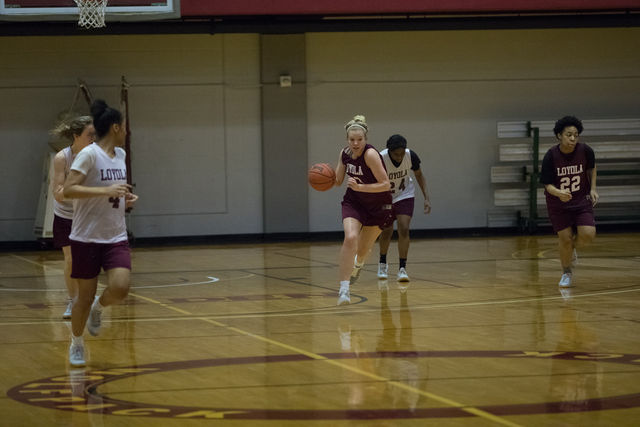 The sixth seeded Loyola women's basketball team squared off against the third seed Montana State-Northern Skylights on Thursday night in the first round of the National Association of Intercollegiate Athletics National tournament in Billings, Montana.
The Wolf Pack took control of the game early after outscoring the Skylights 18-13 in the first quarter.
Montana State-Northern fought back and held the Wolf Pack to just eight second quarter points. The Skylights entered halftime with a 27-26 lead and both teams went to their respective locker rooms looking to make the necessary changes that would give them an advantage in the second half.
The adjustments made by Coach Kellie Kennedy and her team weren't enough as the Wolf Pack struggled in the second half to do what they do best — rebound. The Skylights eventually took control in the 4th quarter where, at one point, they were able to achieve their largest lead of the game (8 points).
Additionally, the Wolf Pack had no answer for MSUN's leading scorer, Natalee Faupfel, as she used a handful of her 27 points to help ice the Skylight's 60-55 win over the 6th seeded Wolf Pack.
For the second consecutive year, the Wolf Pack's season came to an end in the first round of the NAIA National Tournament. The Wolf Pack, uncharacteristically, were out-rebounded (46-34) and finished the game shooting just 28.8% from the field. Junior guard, Zoie Miller led the Wolf Pack with 17 points. She was the only Loyola player to finish with double-digit points.
Senior forward, Meghan Temple, the team's leading rebounder, finished with eight points and eight rebounds in the loss and after playing in the last game of her remarkable four-year career, the legacy that Temple leaves behind is sure to last for years to come. Recently, Temple became the first player in program history to surpass 1,000 points and 1,000 rebounds.
Despite the season ending on such a sour note, it's still worth mentioning the accomplishments that the 2016-17 team achieved this year under coach Kennedy. First and foremost, the Wolf Pack's 26 total wins this season are the most ever recorded in a single season in program history. Additionally, the Wolf Pack had nine players receive conference honors this season.
On Nov. 28, 2016, Coach Kennedy notched her 174th career win, solidifying her as the school's winningest head coach.
The Wolf Pack end the 2016-17 season with a 26-7 record.