Non-religious students use Lent as opportunity for growth
Lent, a spiritual observance popular in Catholicism and some sects of Christianity, is no longer being celebrated only by religious adherents.
The season asks followers to fast or forgo some sort of luxury or pleasure in order to understand Jesus' trials during his 40-day fast in the desert. However, many atheist, agnostic and non-Christian millennials are also committing to sacrifices during Lent for personal, non-religious reasons.
Amber Crabb, political science freshman, was raised in an evangelical church and considered herself a Christian until age 15. In the church she attended, Lent was not observed.
"We did do other forms of fasting though. It was suggested to show self-control. I've given up social media, my phone and secular music at different times," Crabb said.
Crabb, who said she began to find personal trouble with religion and the church after becoming interested in science, still decided to give something up for Lent this year.
"I decided to give up all drinks that are not water and coffee because I drink a lot of sugary drinks which are bad for me," Crabb said.
A self-admitted Sprite addict, Crabb figured the Lent season was an attainable amount of time to try giving up soda.
"It just seemed like a good amount of time to implement something that's good for my body," Crabb said.
Morgan Birdwell, theater arts freshman, is another non-religious Lent participant. He too was raised in a religious household, as a Catholic, but no longer identifies as one.
"I used to give up things for Lent, but I haven't really in the past couple of years," Birdwell said.
This year, instead of forgoing Lent or giving something up as he's done in the past, Birdwell said he decided to use the Lenten season to become a more caring, less judgmental person by eliminating negative thoughts and talk.
Despite not being religious, Birdwell said he saw Lent as an opportunity to actively work toward making a positive change in his life.
"Sometimes in college, when you are faced with negative thoughts all the time, it is hard not to let those thoughts creep into your mind. The challenge is not going along with what other people say," Birdwell said about attaining his goals.
Both Crabb and Birdwell said they've been successful with their Lenten resolutions.
"I have consistently been trying to be a better person and it has been working," Birdwell said.
Crabb is proud that she has accomplished her goal so far.
"I have been succeeding. I have not had a sugary drink since Lent began," Crabb added.
About the Writer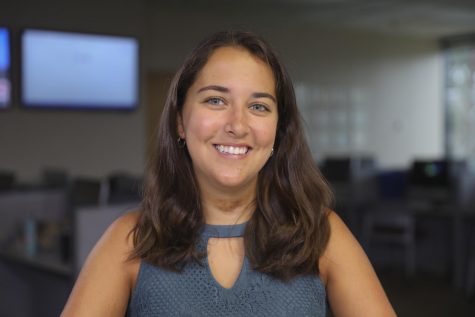 Erin Snodgrass, Editor-in-Chief
Erin Snodgrass, mass communication senior, is excited to be serving as Editor-in-Chief of the Loyola Maroon this semester. She has previously worked as...