Study shows link between religion and health
For black women looking for ways to improve their mental health, some researchers say religion and spirituality bring health benefits such as a longer life and a decreased risk for heart disease.
According to the Black Women's Health Study, which was further analyzed in the April 2017 issue of the American Journal of Epidemiology, black women who said they were very involved in their church, mosque or another place of worship tended to report excellent or very good mental health.
According to a 2011 nationwide survey conducted by The Washington Post and the Kaiser Family Foundation, black women are one of the most religious demographics in America, with 74 percent of black women and 70 percent of black men saying that "living a religious life" is very important, compared to 57 percent of white women and 43 percent of white men.
Johannah Williams, political science junior, grew up Christian, and her parents are pastors. She has suffered from chronic migraines, pelvic and knee pain for several years, but she said she has a very positive outlook on life.
"There are several different kinds of illnesses that I have to overcome on a daily basis, and my faith definitely helps me get through hard times, especially dealing with chronic illnesses," Williams said. "It's really important to me that I have this foundation that I can fall back on, whether it's, you know, attending a church service or reading a particular passage of scripture or just knowing that somebody out there is praying for me."
The researchers behind the 2017 report said that it can be tricky to research health and spirituality.
"I think it is very well known that black women, compared to other people groups, are more religious. The question is if being religious is affecting their health," Lynn Rosenberg, senior epidemologist at the Slone Epidemiology Center at Boston University and a member of the research team that compiled the report, said.
Although Rosenberg's team limited their research to black women for this report, other studies looking at white women had similar findings, Rosenberg said.
Rosenberg's team's research suggests that attending a place of worship weekly and praying at least two or three times a week is related to lower mortality rates.
"Women who prayed the most had the lowest mortality rate. Attending religious services was linked to lower mortality. Of course, you have to be healthy enough to attend church, but we did take that into account," Rosenberg said.
Rosenberg's team is continuing its research on the impact of religion on health and will focus on specific issues like heart disease.
"Our study on religion began in 2005. Our grant from the National Health Institute is for five years, and we have to reapply after that. We were just approved for another five years. We hope to continue this study for a very long time," Rosenberg said.
Rosenberg believes the research done in this area could help religious and nonreligious black women alike.
"I think if we find out why participating in religious services is beneficial to health — say, if having a support system is the biggest factor — that could be helpful for people to know. If they don't have one, they can find one," Rosenberg said.
Williams said she believes that praying contributes to better health.
"Whenever I need help with things like that, it's important for me to pray so that I'm communicating and strengthening my relationship with God," Williams said.
About the Writer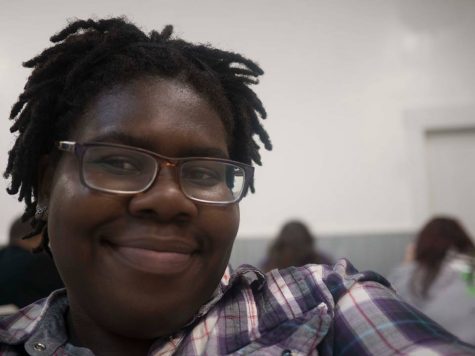 Alliciyia George, Video Producer
Alliciyia George is the Video Producer for The Maroon and Maroon Minute. Previously, she worked at The Maroon as Senior Staff Photographer and as a contributing...