Wolf Pack replenishes roster after losing integral players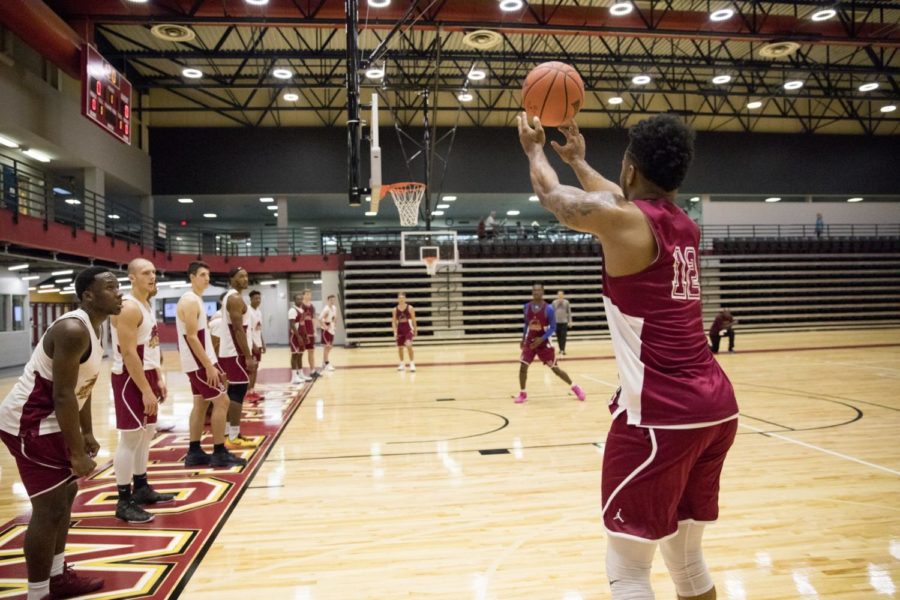 The offseason wiped away three key players that helped guide the men's basketball team to a national championship tournament appearance in March — a feat that hasn't been achieved since 1946.
Seven months later, head coach Stacy Hollowell and his new-look coaching staff are busy finalizing the depth chart and tending to some last minute tune-ups before the season kicks off on Oct. 28.
The depth chart being revised by Hollowell and his pair of first-year assistant coaches, Trey Lindsey and Fred Hunter, might seem a bit different than what fans are used to.
To simply put it, a lot has changed since the Wolf Pack's historic season came to an end in March after a few notable players graduated.
Johnny Griffin inked a deal with a professional basketball team in Canada, Nate Pierre graduated and is pursuing a career in commercial real estate and Jalen Gray graduated with a business degree.
"We didn't only lose Johnny, we lost Jalen and Nate, too. And those guys had equally important roles," Hollowell said. "Johnny was an athlete and he definitely brought rebounding to the table, but if you look at what we lost between the three of them, we lost 600 rebounds between those three guys."
How do you offset the loss of three players who played an integral part in helping last year's team make history? You recruit — a task that comes easy for one of the newest members of Hollowell's coaching staff.
"Trey is a really, really good recruiter and has a really good basketball mind. He studies the game. He understands the movement of offense, understands the movement of defense," Hollowell said.
Lindsey helped Hollowell reel in the biggest recruiting class of Hollowell's tenure to date. Eight freshman signed with the Wolf Pack over the offseason, giving the team an added boost of versatility and depth.
"This offseason has been very rewarding, as we have had a bunch of first year guys come together from very diverse backgrounds, and through the trials and tribulations that come with offseason conditioning, we have come to form a bond that exemplifies the brotherhood of Loyola basketball," Ethan Turner, business analytics junior, said.
Despite the departures of three important players and the arrival of several new faces, the team will likely rely heavily on players who have been around since Hollowell began his tenure with the Wolf Pack in 2014.
One of them is business senior Nick Parker, the Wolf Pack's leading scorer from a year ago. Throughout the offseason, Parker has been challenged to emerge as one of the team's leaders.
"We all know that Nick can score it. We need Nick to be more efficient and more effective; able to get us in sets and settle us down and move guys on the floor and communicate to lead us defensively," Hollowell said.
So far, Parker has been up to the challenge, as he embraces the same "lead by example" mentality that Griffin brought to the team when he was still donning a Wolf Pack uniform.
"Nick has shown some leadership in terms of how he defends and his ability on the floor lends credibility to that leadership," Hollwell said.
Hollowell believes that the same can be said for Turner, who utilizes his relentless work ethic as an example for the younger guys to follow.
"And Ethan Turner, too, is a guy that from day one he's given us every single drop of energy that he's had," Hollowell said.
And if the freshmen need any more inspiration, they shouldn't have to look any further than accounting senior Benjamin Fields. Fields missed the entire 2015 season and was forced to redshirt last season after suffering a leg injury that put him out for nearly two-and-a-half years. Throughout the rehab process, Fields maintained a solid connection with his teammates and provided the team with leadership that extended beyond the game of basketball.
"Ben, through all of his injuries, has been a tremendous leader for us. That has not changed. When he got hurt he committed himself to leading our group and being an uplifting guy," Hollowell said. "Ben is our spiritual leader on the floor. From that perspective, he's irreplaceable."
Now in his senior season, Fields's coaches feel he is ready to step foot onto the court again and play for the team that he's watched fight for wins countless times during his two-year absence.
"His ability to get up and down the floor for long periods of time is still to be determined but to have him back on the floor it's nice to have a big, strong guy on the inside," Hollowed said.
This Wolf Pack team may not be as experienced as in years past, but that hasn't deterred Hollowell from holding his team to the same standards and expectations that he laid out for last year's history-making group.
"My favorite thing about coaching this group is knowing that we can get better everyday, and that's a challenge for us as coaches and that's a challenge for our guys as players, and you can see it already from where they were day one to where they are now, but just that challenge of knowing that we can improve every day and that we got a nice corps of young guys that we can build on in the future," Hollowell said.
The Wolf Pack will try to make another run at a national championship tournament appearance this season beginning on Oct. 28, when they make the drive to the Lakefront to take on Southern University New Orleans.