Tulane Blue Line replaces Loyola's shuttle service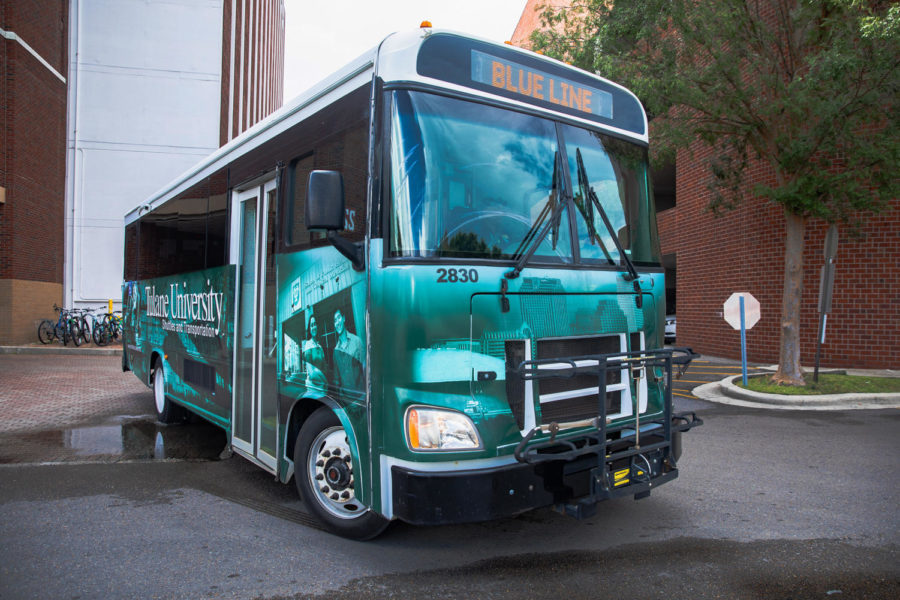 This fall semester, Loyola students are skipping the maroon and gold for Tulane University's Blue Line shuttle system.
Loyola's van shuttle system has been discontinued and replaced by Tulane's shuttle system that will now serve Loyola students and faculty. The shuttle provides access to the West Road Garage stop, Carrollton Hall Turnaround and the Broadway Campus/Pine Street stop, according to an email from Amy Boyle, director of residential life.
The university decided to use Tulane's shuttles in order to use resources more efficiently, according to Boyle.
"Tulane and Loyola shuttles traveled the same path at the same time, duplicating services," Boyle said. "It was determined that we could make better use of available resources by consolidating the services."
With the addition of Founders Hall to Loyola's Broadway campus, Boyle said she believes that replacing the 11 passenger Loyola van with the Blue Line was a necessary move to accommodate more shuttle riders and shorten wait times.
"Blue Line buses are larger and provide more space for students, resulting in less likelihood of full shuttles with no space for riders. As you know, we have added just over 40 bed spaces to the Broadway campus, meaning more students to transport," Boyle said.
As for the future of former Loyola shuttle service drivers, Boyle said she couldn't comment due to Human Resources expectations and some students have expressed that, for this reason, the shuttle system's closure is bittersweet.
"I personally have mixed feelings about removing Loyola's shuttle since it has expanded the stops but has limited the hours," Kayla Corrigan, psychology senior, said. "I will also miss having my daily chats with Ms. Kathy who used to drive the shuttle. She has since been working in the LUPD office."
Corrigan said she is also concerned about how the Blue Line's additional stops will affect students' commutes to campus from Broadway.
"I do not think I will be using Tulane's shuttle system because it will double the amount of time it takes for me to walk to my room," Corrigan said, "I will honestly be walking to campus every day since it is less of a hassle."
The Blue Line will run from 7 a.m. to 6 p.m. on weekdays. For evenings and weekends when the shuttle isn't running, students can download and use Tap Ride, a free on-demand shuttle service. The Wolf Pack Tap Ride line will provide weekend service from 2 p.m. to 6 p.m.
"The main disadvantage is that it ends at 6 p.m. and would only pick me up if I request in via tap app. It would be quicker to walk back to my building or even ask an LUPD officer to escort me back if I am nervous," Corrigan said.