LIT Conference
Tess Rowland
February 11, 2019
While many of their classmates were catching up on sleep and attempting to avoid Super Bowl weekend, 70 Loyola students gathered in the Danna Center on Saturday to discuss empowerment, self care and personal growth at the Learning, Innovating and Transforming Conference.
"The goal of this conference is to help Loyola students develop a solid groundwork to grow into professionals and leaders of social change," said Margaux Schexnider, student coordinator for the event. "It is organized and run by student leaders at Loyola with the goal of helping their peers explore all the different facets of social justice."
The day consisted of three blocks: the business block, the social-justice block and the self-care block. Within those blocks, students chose from different workshops.
Within the business block, students could choose between talks about LinkedIn, becoming a professional and giving short 'elevator' speeches.
Beth Shirley, business management sophomore, discussed the "do's" and "don'ts" of LinkedIn through good and bad examples of bios, photographs and resumes, as well as importance of finding a good job.
Music therapy junior Kris Bradley said this presentation helped her.
"I have a LinkedIn profile, but I haven't really done much with it," Bradley said. "This presentation gave me what I needed to start to effectively use my profile."
Business analytics junior Kaitlin Stutts and popular and commercial music senior Laura Prado led the discussion about becoming the "ultimate professional" by giving tips on how to dress for an interview and explaining the difference between casual and business casual.
The session ended with a small group activity in which participants were given a character trait and occupation and asked to relate how the character trait could be applied to the profession.
The reason behind the activity was that "interviews for jobs are becoming less about your experience and more about who you are as an individual," Stutts said.
Next, came the social justice block consisting of workshops such as "Hip Hop/Rap as a Social Movement" discussing the meaning behind rap, "Building and Breaking Down Walls" discussing both walls in relationships and current border patrol and "Just Walk with Me" defining privilege and how it affects individuals.
The Building and Breaking down Walls workshop was taught by Angelyss Vasquez, Synae Soriano and Catherine Novella of Loyola's Organization of Latin American Students.
They first asked the group why people build walls and how it could impact a person's life.
"People often build walls to protect themselves from being hurt," said Anna Falotico, theatre arts freshman.
This related to the current political climate in the United States as the question still remains if President Trump's Wall will actually be built. A video was played showing the separation of families at the border.
The question that was then posed was, "Did your opinion of the wall change?"
"It didn't change it became a bigger and harsher symbol of separation and trauma," said Falotico.
The point was to get students to "think critically and become passionate about the world around us and become an agent of change, just as Ignatius Loyola once did," said Angeles Vasquez, biology freshman.
During lunch, keynote speakers came to talk to students and host a panel. Speakers included former public defender William Snowden, Mehtap Kandara, David W. Robinson-Morris, director of corporate and foundation relations at Xavier University as well as other prominent community leaders.
The group discussed challenges of being a minority in the workplace, how to overcome self-doubt and how to find direction in times of defeat and despair.
"I remember going to court and entering through the attorney entrance dressed in professional attire and being told I should enter through the front as this was the attorney entrance. Two of my female white colleagues had entered just before me in street clothes as they were not going to court. I was told to enter through the front entrance because this individual seemingly thought I was not an attorney based upon my appearance and my complexion," Snowden said.
Many others on the panel shared similar experiences and audience members voiced their support through snaps and claps during the speakers' testimonials.
"You have to realize you won't fit everywhere and the biggest obstacle between you and personal success can sometimes be yourself," Robinson-Morris said.
Kandara, co-founder of Kandara, LLC which sells used toys, discussed prejudices she faces daily as a Muslim business woman in Louisiana, and what still motivates her to keep striving for greatness.
"Don't let others' preconceived notions and assumptions define you. You define yourself through your actions, through your actions and work," said Kandara.
The final block of the conference consisted of self care discussions about everything from vision boards to yoga.
"Self care is important because you must maintain balance and harmony to achieve your goals and not be overwhelmed," said Alexis Moore, biology sophomore.
Schexnieder said she hopes that students learned valuable lessons from their time at the conference.
"We hope to inspire students to use the new knowledge they learned to take steps to not only become leaders at school, but also in the community around them," Schexneider said.
About the Writer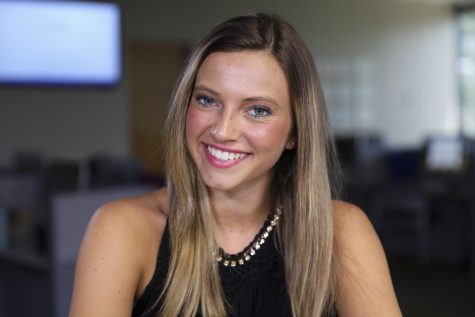 Tess Rowland, Wolf Editor
Tess Rowland is a mass communication senior from Fort Lauderdale, Florida. She is currently serving as The Wolf Editor. In the past, she has served as...