Loyola is leaving virtual accommodations up to professors
Almost two years into the COVID-19 pandemic and after three semesters of HyFlex courses, professors are now being left to decide how they accommodate sick and quarantining students.
Unlike last year, these students do not always have the option to hop on Zoom and attend class from home due to the nature of the fully in-person semester. The plan to leave HyFlex classes behind was announced back in March 2021 and brought about by the widespread availability of vaccines, according to an email from University President Tania Tetlow.
Despite the growing number of individuals vaccinated against COVID-19, including 92% of students on campus, COVID-19 has not disappeared. In fact, every parish in Louisiana is still considered at the highest risk for the spread of COVID-19, according to the Louisiana Department of Health website, due to the delta variant and low vaccination rates throughout the state.
Although thousands of cases are still being reported everyday in Louisiana, Loyola's plan for professors to decide on virtual accommodations is still in effect.
For students that may have to quarantine as they return to New Orleans and throughout the year, Provost Tanuja Singh urged faculty and staff in an email about the fall semester to "please remain flexible with attendance and deadlines." She said the university will urge students who have minor symptoms to stay home.
Any students exposed to a positive COVID-19 case should inform public health of the exposure, isolate, and get tested, according to Murret. Vaccinated students can get tested three to five days after exposure and return to class and work with a negative test result, but unvaccinated students are still required to quarantine for the full 14 days, according to an email to students and faculty.
"Obviously, we don't want to penalize students who genuinely cannot attend class," Singh said in the email.
How professors guide students through necessary quarantines is up to them, but Singh supplied professors with a variety of suggestions to accommodate these students, like providing a live capture of class if in a HyFlex classroom, letting students attend on Zoom, and uploading narrated presentations to Canvas.
Jonathan Peterson, chair of the University Senate and director of the University Honors Program, said he thinks the faculty recognizes that students will need to quarantine throughout the semester.
"It's important that we find good ways to make sure that those students can complete their courses successfully," he said. "We want to make sure students get what they need to succeed."
Peterson said there is going to be a lot of flexibility this year regarding attendance policies as there will likely be students and faculty needing to quarantine throughout the year.
"We don't want to give people a reason to think they have to attend if they're sick," he said.
Junior public relations major Bella Nielsen chose to remain fully online this year as a result of rising COVID-19 cases in the New Orleans area, but said she feels that virtual accommodations for students on campus are very important.
"From what I remember, if you tested positive, it's like a 10 day quarantine. You can get very behind in a class in 10 days," she said. "It's almost as if you're being, I don't want to say 'punished' because that's such a harsh word, but again, 10 days is a long time to not be in a class."
Leave a Comment
About the Contributor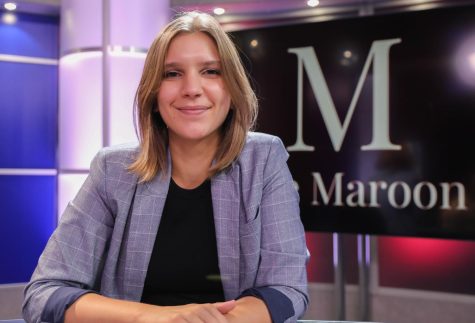 Madeline Taliancich, News Editor
Madeline Taliancich is a senior at Loyola University New Orleans studying theatre arts and journalism who grew up just half an hour outside the wonderful...