Loyola moved to test-blind admissions policy
Loyola did not consider test scores for the fall 2021 admissions cycle, which students say alleviated much of the anxiety that comes with a college application.
The freshman class of 2025 is the first to benefit from Loyola going test-blind; the university announced the change in May 2020 but implemented it for the first time this semester.
Marketing freshman Ari Jackson is a part of Loyola's first class benefiting from this new policy. Because most schools only became test-blind recently, Jackson took the ACT three times in high school and said it was really stressful.
"I'm not the best test-taker, like I always have anxiety before I take big tests like that," she said.
Jackson thinks her GPA reflects her more as a student than a test score and "likes the idea" of test-blind admissions.
"I've always thought that the ACT is very limiting. Not everybody has access to a tutor," she said.
The results of the SAT and ACT will no longer be considered during the admissions process moving forward, and, according to Chief Enrollment Officer Nathan Ament, the university welcomed the largest and most diverse class in its history to campus this fall alongside the introduction of this policy.
What was once the benchmark of college acceptance is now being done away with in favor of a holistic approach, according to Ament. While over a thousand colleges have gone test-optional, Loyola was one of less than 100 four-year institutions to go entirely test-blind, according to College Transitions.
Test-optional schools provide prospective students the opportunity to submit their test scores, but do not require them. The scores are considered if submitted, but students will not be penalized if they choose to not send them.
Loyola's admissions process will not be considering the test scores in any admissions or merit-based scholarship decisions, even if the student chooses to submit their scores, according to a university FAQ page.
Loyola was early to a nationwide trend that schools like Reed College and the University of California system have since joined, according to Inside Higher Ed. Prior to Loyola's May 2020 announcement, only two other schools, Hampshire College and Northern Illinois University, were test-blind. Now, for fall 2021 admissions, 67 other schools have joined Loyola as test-blind, according to Inside Higher Ed.
Ament said that the switch was in the spirit of the university's core values of diversity and inclusion. According to Ament, standardized testing favors the wealthy, furthering the divide between them and their equally capable, though less fortunate, peers.
"We want to level the playing field as best we can and be sure that we are getting the best and the brightest, no matter a student's background or birthright," said Ament.
Some students will still need to take the SAT or ACT for other reasons, such as the state-funded Taylor Opportunity Program for Students scholarships or eligibility for the National Association of Intercollegiate Athletics, according to a statement from the university. In these cases, Loyola will use the scores to determine eligibility, but they will have no impact on admissions outcomes.
Psychology junior Adele Colson is excited by the prospect of test-blind admissions, but wishes she would have benefited from it as well. Colson said she experienced intense anxiety about test scores during her college admissions process. Colson took the SAT as a high school junior, but was unable to finish within the allotted time. She was eventually diagnosed with anxiety and attention-deficit/hyperactivity disorder and granted extended time, but said she still found the test unbelievably anxiety-inducing.
She took the test three times between her junior and senior years and had her testing fees waived. Although students can take the tests as many times as they want, retesting isn't always financially feasible to some. The full ACT costs $85 per test, while the SAT costs $55 for the standard two section exam, according to the test registration pages.
Colson thinks that the test-blind policy will open up opportunities to more people and make education more accessible for them, and wishes she had had the same opportunity.
"The SAT tells you how good you are at taking their test, not how smart you are, how good you are in school, or how you apply yourself. It's just a test," said Colson.
Loyola sees its test-blind admissions process as a component of its commitment to understanding the whole person, said Ament. The new admissions policy is in line with the Jesuit value of "cura personalis," which means care for the whole person and their development.
The university is using the new admissions process as an opportunity to consider the applicants' individual strengths and talents, rather than just their test scores and grades, according to Ament .
"We're seeking students who not only look good on paper – or can ace a test score – but have the character, courage and creativity to go out and change the world. We look at the whole person," said Ament.
Madeline Taliancich contributed to the reporting of this story.
View Comments (1)
About the Contributor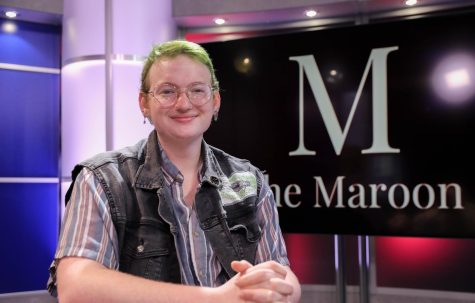 Oliver Bennett, Op-Ed Editor
Oliver Bennett is a mass communications journalism and sociology major from Dallas, Texas and Natchitoches, Louisiana. This semester, he's excited to...