Loyola coaches reflect on new recruits
Editor's note: The interview featured in this article with Coach Rickey Hill was conducted before his unexpected death Sept. 20. We chose to include the inter- view to commemorate his contribution to Loyola.
As they prepare to enter the 2021- 22 season, several Loyola coaches said they have been able to find athletes that complement their current teams and push them to the next level.
"Our freshmen came in really ready to go. They were excited to get to work and proved that they had been preparing for this. They are vocal, confident, and have a high level of skill," said Jesse Zabal, head volleyball coach.
This season is Zabal's fifth with the Pack and she believes the team is moving in the right direction.
"We continue to elevate the level of our play by bringing in stronger recruits each year," Zabal said.
The team began their season in early August with six new faces. Among them are three outside hitters, Preslie Boswell, Emma Fahy, and Simone Tyson. Other recruits include setter Rebecca LaCour and defensive specialist and libero Simone Moreau.
Zabal applauds the team for their performance in their first matches of the season.
"We received national votes for the first time, possibly ever, for our program," Zabal said. "All of our newcomers contributed to this success."
She credits the team's recent accomplishments to the players' willingness to learn from one another.
"My favorite part so far has been the way they have connected with the others on the team, how they've trusted our more senior players to help them learn the ropes, but also how they have been there to push the more senior players to improve their play as well. " Zabal said.
The competitive cheer and dance teams collectively welcomed 13 new student-athletes.
The recruits are majority local, coming to Loyola from the Greater New Orleans area. Joining cheer is Stefan Hernandez-San Martin from Jesuit High School and Rebecca Cunah from Crescent City Christian School, as well as TaLaija "Tay" Allen, Lauren Bernstein, Emma Santangelo, and Ashley Stevenson.
Dancers Rachel Berzas and Colleen Butler both graduated from Mount Carmel Academy in Metairie, La. where they danced on the Rhythm Dance Team. Gabby D'Angelo, Madelyn Guerra, Elysse June, Megan O'Brien, Shay Stergis, and Aleigha Thompson will join them on the court.
Referring back to 2016, Rickey Hill, head cheer and dance coach said, "I walked in the door with five dancers and I think eight or nine cheerleaders. Now we're getting local kids that are very talented. I have good kids coming in year after year, buzzing about Loyola."
Hill said that the program has grown each year, in terms of numbers and skills.
"My seniors who have graduated see videos now and they go 'Coach Rickey, if I tried out now I wouldn't make it.' And that's how it's supposed to be. The program is supposed to grow every year, so when you're a senior you're looking at what's coming through the door next and you're like, whoa, I'm glad I'm done," Hill said.
Last year, the competitive dance team placed 8th in the NAIA Championship Competition, their best finish since the program's start in 2016. The cheer team opted out for the 2020-21 season, but both teams are scheduled to compete for the 2021-22 academic year.
Leave a Comment
About the Contributor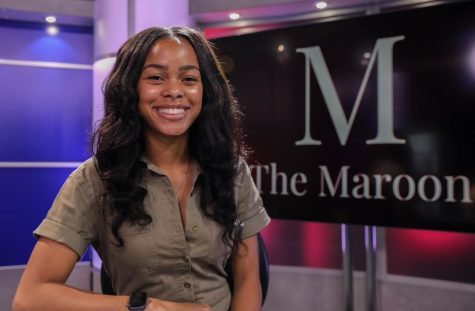 Jabez Berniard, Sports Editor
Jabez Berniard is mass communication major with a concentration in journalism and a minor in legal studies. She is excited to serve this semester, as the...