Push for Hispanic-Serving status comes with challenges
Para leer esta historia en español, cliquea aqui.
In 2020, Loyola released a three-year strategic plan to meet the changing needs of its students, part of which is to foster more diversity and inclusion at the university. Part of this plan is becoming a Hispanic-Serving Institution.
To accomplish this, Loyola must have an enrollment of at least 25% Hispanic full-time undergraduate students, according to the US Department of Education. Currently, the university is 6 percentage points shy of this goal with a fall 2021 undergraduate population of 19% Hispanic students, according to Rachel Hoormann, vice president of marketing and communications.
Despite Loyola's goal of becoming a Hispanic-Serving Institution, many current Hispanic and Latine Loyola students feel like they're being overlooked.
Kim Díaz, international studies senior with a focus on Latin American studies, said they've never felt like the university has created any programs or courses that have demonstrated the university's desire to serve its Hispanic or Latine students.
"If anything, it is the students and professors that are attempting to demonstrate Hispanic pride as opposed to the school itself," Díaz said.
Once Loyola reaches a 25% Hispanic undergraduate population, the university can apply for the Title V program that would grant Loyola an increase in funding for better academic opportunities for its Latine students, according to the US Department of Education.
University President Tania Tetlow said she believes the funds made available to the university through the program will help support all the work they do, primarily with financial aid for students.
"We have really thin margins so we get creative and work really hard to make that happen. Any kind of funding will help us in that work," said Tetlow.
It is unclear if Loyola will allocate the financial aid to all students or if they are exclusively for Latine students.
At present, Tetlow said the university offers courses on Latin American culture and identity and that part of the purpose is to give students a space to reflect on their identity and what that means to them.
Díaz said the Department of Languages and Cultures is the only space they have felt represented on campus, but that it is a department Loyola continuously shrinks by not hiring more permanent faculty. Outside of this department, Diaz said they've had to search for their own community, given the lack of official spaces on campus where minority students can engage with one another.
"Loyola has a very small percentage of Hispanic or Latine professors which is a very big issue for an institution that aims to be a Hispanic-Serving Institution," Díaz said.
There are multiple ways in which the university can better serve its minority students, they said. Díaz believes that club fairs should be hosted specifically for minority groups on campus and guest speakers should be invited more frequently to talk about issues related to their culture.
"It just feels as if minorities are more of a statistic than actual individuals," Díaz said.
Michael Lardizábal, third-year film student, said that he feels represented and served as a Latino student in Loyola. As he walks through the corridors of the Danna Center, he said he always hears someone speaking Spanish. This creates a space in which he said he feels a sense of belonging and can partake in conversations with Latine students from other countries.
Despite these feelings, Lardizábal drew attention to the lack of diversity among the university's faculty, distinctly, the absence of permanent Hispanic faculty.
"All my professors are American and White. They are great professors but someone of Latino heritage, different race, culture, and of other descent could also do a great job," said Lardizábal. "I have not had any Latino or Hispanic professors. I have had classes with only two Black professors in my concentration."
With a Spanish minor and Latin American studies focus, Díaz said they had not taken any courses with Latine professors until last year.
During his time at Loyola, Samer Yacaman, third-year finance and international business student, has met various Latine professors, but he has only had the opportunity to take a class with one, Dr. Gustavo Barboza. He has also met the associate dean of the College of Arts and Sciences, Dr. Uriel Quezada.
"I think it matters to have Dean Maria Calzada and Associate Provost Uriel Quesada and that we reflect in our own campus culture who we are as a community," Tetlow said.
Some faculty are also dissatisfied with the lack of Hispanic and Latine professors at Loyola.
Director of both the Latin American studies and Spanish programs, Pablo Zavala said he is satisfied with the work the university does to help their students both academically and financially, but that he would like to see a change in the diversity among professors. He cited the lack of full-time Latine and Black professors that work at the university.
"I think that in order to serve Hispanic students adequately they need to see representation when they look at their professors. And not be in an institution where close to 80% of full-time professors are white," said Zavala.
Despite Loyola's lack of faculty representation, students expressed positive feelings toward the community built by the Latine students with the help of Hispanic faculty on campus.
Yacaman said that he feels respected by the entire community at Loyola.
"I think as Latinos/Hispanics we have a very strong connection amongst ourselves. Thus, it is only necessary that we find each other so we can create our own space," said Yacaman.
Zavala believes Latine students will benefit from Loyola's initiative to become a Hispanic-Serving Institution.
"They are going to be better served," said Zavala. "Hopefully, that means better representation, better funding, and aid that they can get. That is going to help in general. And hopefully, that is just going to start a cycle going, where it is going to attract more Hispanic students."
Tetlow said the university is working to do just that and increase retention of all students, particularly students of color. It is also working to amplify the curriculum and build a more diverse track of study for the benefit of all students, particularly to attract the attention of their current and future Latine students, according to Tetlow.
The Office of Equity & Inclusion is also opening a new Multicultural Center in the Danna Center in the coming months. Once the center is open, students can expect more programming, events, and workshops to educate and celebrate the tremendous diversity on campus, according to Kedrick Perry, the vice president for equity and inclusion.
View Comments (1)
About the Contributor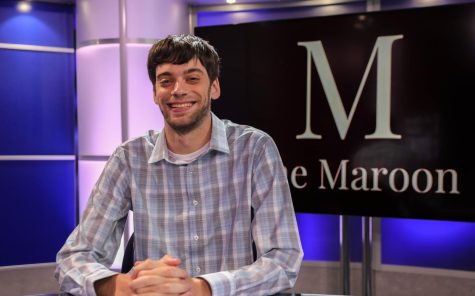 Andrew Lang, Head Copy Editor
Andrew Lang is head copy editor. He is a mass communication senior. He's previously served as webmaster, design chief, copy editor, sport, staff, and...