Chants saying "Justice for the Tampa 5, protesting is not a crime" rang out of a Monroe Hall classroom as a group of students and staff welcomed speaker for the Tampa 5, Laura Rodriguez, to tell her story.
Rodriguez is a graduate of University of South Florida who was arrested, along with four others, in March for protesting against Florida governor Ron Desantis' anti-education laws. She currently is traveling to schools throughout the parts of the South to gain support and spread awareness to the issues taking place not only in Florida but nationally as well.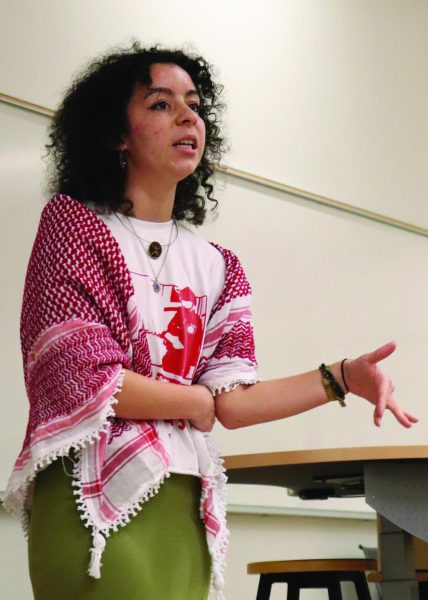 Her latest stop on this tour was Oct. 24, 2023 here in New Orleans, where she spoke at both Loyola and Tulane.
According to Rodriguez, the five students arrested were mistreated and abused by police officers and campus officials throughout the arrest, booking, and charges.
Although they were charged with felonies, the group of USF students continue to persevere.
"As they doubled down, we knew that we had to double down, we had to stand even stronger." Rodriguez said.
The national campaign began as the students, Gia Davila, Chrisley Carpio, Lauren Pineiro, Jeanie Kida, and Laura Rodriguez shared their story to raise financial support and awareness of Florida's attacks on education and First Amendment rights. They became known as the Tampa 5.
Loyola's branch of Students for a Democratic Society, invited Rodriguez to speak during the Tampa 5 national campaign through the national SDS, an organization that she is a member of and says has provided valuable levels of support.
"The only way out is through," Rodriguez said.
According to Rodriguez, SDS chapters across the country have been campaigning for Tampa 5 for the student movement and the attacks that have been taking place against diversity, student rights and the freedom of speech.
Rodriguez has already traveled across the East Coast and will continue to travel to cities in Texas, Arizona, and Colorado with SDS chapters.
Rodriguez calls on students who disagree with the anti-education laws that remove the discussion surrounding LBGTQ+ rights, racial rights, and history in education to get involved.
Louisiana's governor-elect, Jeff Landry, has expressed support for similar if not more extreme ideals and agendas to that of Desantis.
"It's important that students get organized and prepare to fight back against the oppression." said Carson Cruse, Loyola's SDS president.
Cruse encourages students to join Loyola's SDS chapter, as well as support the Tampa 5 in any way they are able.
"It's about the growing student movement in this country," Cruse said.
In addition to joining organizations that students are willing to fight for, Cruse and Rodriguez urge the community to escalate the fight against the actions that politicians and governments are taking against students, and to join the movement against politicians who share stances to that of Desantis.
While in New Orleans, community members raised over $8,000 for the Tampa 5 during their trial in December. This, according to Rodriguez, was more than any other city she has yet to visit.
"I'm so glad that people are so generous and that people want to support in any way that they can – and that people understand that it's not me who's under attack, it's them, it's their family, it's everyone across the United States," Rodriguez said.