Pack adds DI shooter to line up
Loyola will open the season against their new transfer player's former team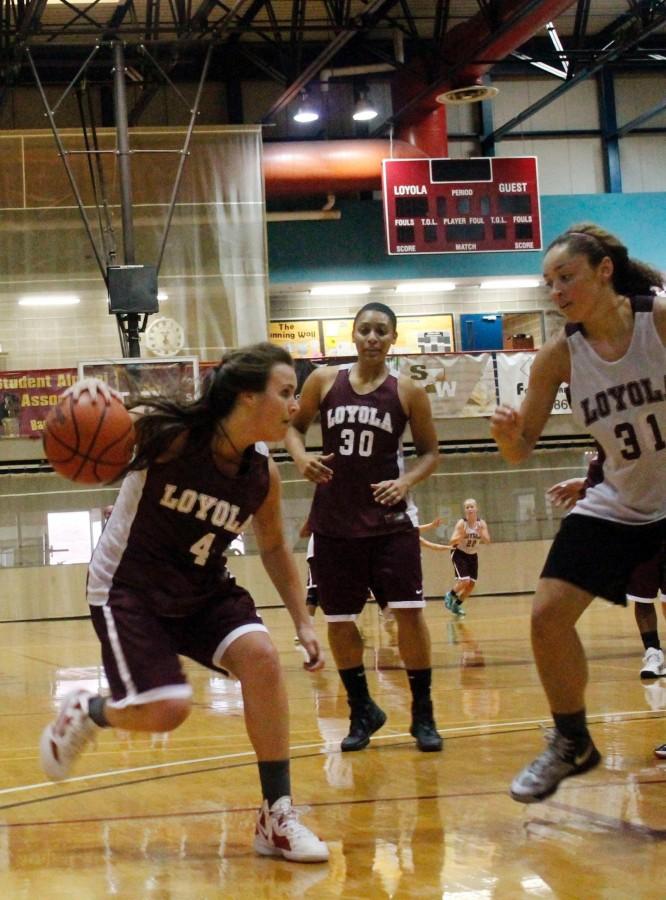 SARAH SZIGETI
October 3, 2013
Megan Whittaker, accounting junior, played Division I basketball at University of Louisiana at Lafayette, but this year she will be on the basketball court wearing maroon and gold.
Whittaker, from Cumming, Ga., is the newest member of the Loyola women's basketball team as a transfer from the University of Louisiana at Lafayette.
Head Coach Kellie Kennedy said Whittaker is a natural leader on the court, and she recognizes the benefit of Whittaker's playing experience.
"She's been playing at a very high level for two years already, and I think she is a natural leader. She fits in extremely well with this group," Kennedy said.
Kennedy said that feeling secure not only on the court, but also with your teammates is something very important. Kennedy said she thinks Whittaker has done easily.
"She feels very comfortable already. I don't think she's going to have any problem getting out there and helping lead the team," Kennedy said.
Whittaker said she is ready for the upcoming season.
"I'm excited for the opportunity to be honest, hoping to get a lot of playing time and hoping to get a ring on my finger this year, especially for Jas," Whittaker said of her fellow teammate, psychology major Jasmine Brewer, the only senior on the team.
This first game against UL is filled with anticipation for the team.
Mass communication junior and Maroon writer Janeicia Neely said this will be a good chance for the team to prove themselves.
"I think its going to be a battle," she said. "We'll be tested and see where we are as a team."
Right after that is their first divisional game, against Faulkner University a team that made it to the national tournament last year. Though it is a tough schedule, Kennedy believes her team is up for the challenge.
"I think we have a very challenging schedule, our first game is an exhibition at UL Lafayette, where Megan is coming from, which will be a very fun game for her and our team," Kennedy said.
While at University of Louisiana at Lafayette, Whittaker played 39 games over two seasons averaging 3.7 points per game. She also shot 29 percent from beyond the arch during that time.
Even in her high school days, she held the record for the most three-pointers in a single game with seven, a record she still holds today.
She also received the Student-Athlete Award all four semesters she was at University of Louisiana at Lafayette.
Whittaker said she passionately loves basketball and aspires to one day be a college basketball coach or a young entrepreneur.
Sarah Szigeti can be reached at [email protected]