Volleyball team is already looking ahead to 2017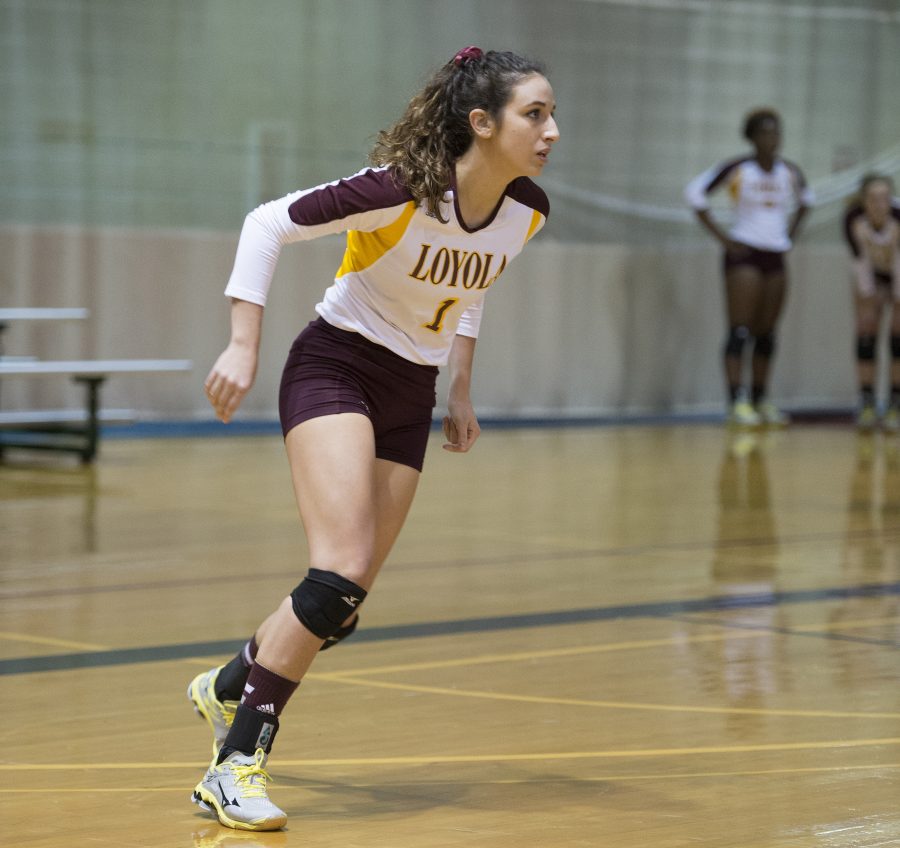 Senior Katie Philippi ended her four-year playing career on Loyola's volleyball team in a 3-1 win over Dalton State College in the conference championships—where Philippi finished with a game-high 21 digs.
"My senior season was a whirlwind, to say the least. We started off strong this season and then we struggled a little as a team, but we worked together, leaned on each other and built each other up," Philippi said.
The Loyola volleyball team finished their 2016 season with a 15-23 record, entered the Southern States Athletic Conference Championships as the seventh seed in an eight seed pool and ultimately finished the season ranked seventh in the conference, which has 12 teams.
"Overall, I was very happy. I think we hit some milestones and achieved some things that we haven't done before. We took sets away from Mobile both times we played them and we finally took a set away from Coastal Georgia in the conference tournament," Angela Franke, head coach of the volleyball team, said.
While the volleyball team has struggled to compete with some of the top teams at the conference championship under Franke's tenure, it hasn't stopped her team from voicing their support of their head coach.
"Even though my time playing under her is over, I know that there is nothing that I can't go to Coach Franke with. Coach Franke has been a blessing in my life, to put it simply. She gave me the guidance that I needed, and for that, I am eternally grateful," Philippi said.
Franke said that the team as a whole lacked a significant skill that most great teams seem to possess—great on-court communication.
"Overall communication and just talking more on the court, I think that was our biggest issue this year and that's something that you can't force or teach," Franke said.
When asked about the team's weaknesses this season, Philippi mentioned that the team lacked consistency throughout the season. Despite the up and down season, Philippi noted that regardless of what happened on the court, the team's ability to pull together and lift each other up stood out as one of the team's glaring strengths.
"Our strengths were in our ability to pull together when things would get tough. The trust and love that my teammates have for one another is unmatched, and that made us an unbreakable unit," Philippi said.
Franke has big plans for her team during the offseason—making the cliche sports term 'there is no offseason' a bit of a reality for the players who are already prepping for the 2017 season.
"We're going to definitely participate in two spring tournaments just so that we can get back in the routine of playing volleyball. We are going to do a lot of conditioning to build up strength so that we can hopefully minimize injuries going into the 2017 season," Franke said.
As Franke and the rest of her team prepare for the 2017 season, Philippi will be preparing for something different—graduation.
"This team has brought out the absolute best in me. I'm going to miss the constant support, love, and dedication that this group of women has given me. They have made me into the person that I am today, and I have no doubt in my mind that my college career wouldn't have been complete without this team and this experience. I already miss them every day," Philippi said.
Although Philippi won't be there with the team next season, she remains optimistic about the future of Loyola's volleyball program and said that the underclassmen on the team possess the talent necessary to lead this team to a conference championship.
"This is going to be a championship team in three years. Coach Franke did a great job recruiting our freshmen this year, and I have no doubts in any of their abilities to lead this team to be champions of our conference," Philippi said.