Tulane hosts annual New Orleans book festival
Kloe Witt, Breaking News Editor
March 16, 2023
Chloe Caudle

The annual New Orleans Book Festival, held by Tulane University, brought thousands together to witness celebrity authors such as author and New York Times journalist Nikole Hannah-Jones, Microsoft pioneer Bill Gates, and even first lady and "Tulane mom" Jill Biden, who paid a surprise visit this year.

The three-day event last weekend hosted over 130 different authors and had 78 different sessions for them to speak about their work. With nearly 10,000 people in attendance, Cheryl Landrieu, co-chair and executive director of the festival, said this year was another success.

"Two back-to-back years of success shows us that New Orleans is engaged and interested in literary events," she said.

Landrieu said her favorite event this year was family day, which took place on Saturday, because it had more events that were geared toward children.

"We had hundreds of kids receive free books and interact with New Orleans literacy organizations who did activities with the kids," Landrieu said.

Landrieu mentioned a surprise visit that occurred over the weekend with United States First Lady, Jill Biden. According to Landrieu, she made a visit and sat to listen to a panel of fiction writers.

"I knew I was coming to New Orleans for a cancer event, and then I heard there was the book festival. I am an English teacher, so I said I had to go," Biden said at the festival, according to nola.com. "I hear so many political speeches. This was just so refreshing."

Another special guest that Landrieu said was a highlight of the festival was Bill Gates, who was at the opening ceremony.

Gates, who has written four books, spoke about his company, Microsoft, and the advancement of artificial intelligence.

Nikole Hannah-Jones, author of the book and New York Times project "1619", reflected on her positive experience with the bookfest.

"It's always a great feeling to be surrounded by brilliant writers and thinkers and just be in conversation with other people who are doing this type of work. There's great energy here," Hannah-Jones said.

Hannah-Jones added that she would definitely return if invited, not only for the festival but for her love for the city as well.

"New Orleans should be very proud of this festival because of the type of talent that has been drawn to Tulane for this festival," she said.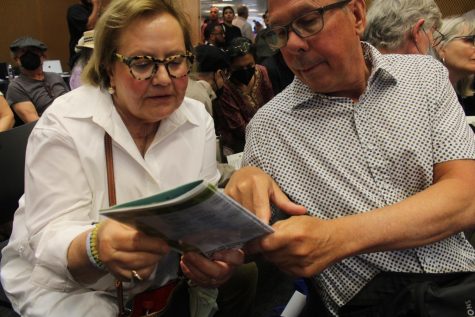 With the end of this year's event, Landrieu said they've already begun planning for next year's festival and are hoping for a third successful year.
"It was just very positive. It was all free and open to the public," she said. "This is just an event for the entire New Orleans community and we hope people will come and attend (in the future)."