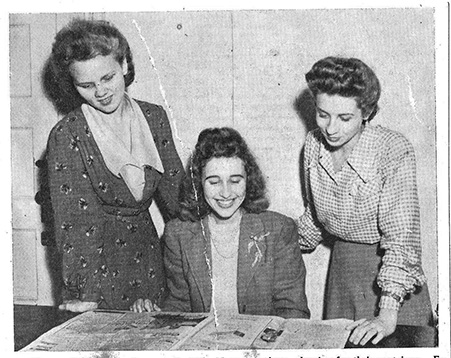 It was a man's world in the early days of The Maroon's publication. But when men were off fighting in World War II, women took the lead and wrote the stories the community needed to hear.
Marion Schlosser LeBon took charge in their absence, taking on the role of Editor-in-Chief, making her the first female in charge of the newsroom in 1943, almost 20 years after The Maroon's first issue.
Just a few blocks from Loyola, LeBon grew up on State Street. She graduated from Ursuline Academy, a Catholic all-girls school. She continued her education at Loyola University in 1940, where she pursued her interests, double majoring in Journalism and English.
LeBon found her way to The Maroon in the Fall of 1942, where she entered the newsroom as a part of the news staff.
In the midst of World War II, The Maroon saw a shift. College-aged men were called to train and serve in the U.S. military, including members of the editorial board at Loyola's paper, as well as the Editor-in-Chief.
After just two semesters writing stories and working for the paper, LeBon stepped up. She became The Maroon's very first female Editor-in-Chief. That was also the semester of the first all-female editorial board.
"It was something she was proud of," said Allyson Tuttle, LeBon's granddaughter.
After the semester ended, LeBon went back to the news staff, but not without making a long lasting impression.
Tuttle described her family to be very centered around education. Attending college was always expected of them, especially the women. LeBon set the example through her accomplishments at Loyola.
"She was always just one of these really smart people that was always fun to talk to, fun to be around," said Tuttle.
After her graduation in 1944, LeBon was offered a scholarship for Loyola's Law school, an opportunity given to very few women at the time, according to Tuttle.
LeBon began her career as a teacher following her marriage to Lawrence J. LeBon, Jr., whom she met in school, at the Holy Name of Jesus Church. They had four children, all of whom attended Loyola for college.
Tuttle attended Loyola's Law school, continuing the legacy started by her influential grandmother. Tuttle also described the empowerment she felt growing up hearing LeBon's stories about being Editor-in-Chief and her time at The Maroon.
"As a woman, you can do anything you want," said Tuttle.
In addition to being a smart, good student, LeBon was described as charismatic.
"She was able to make everybody feel special, you know, which I think is a gift," said Tuttle.
Furthermore, Tuttle said that it was no surprise that her grandmother was the first female Editor-in-Chief and got the opportunities she did.
"She was always one of the sharpest people up until the very end. I mean, you could play Jeopardy with her or you could ask her for a recipe," said Tuttle.
Beyond her time working at The Maroon, LeBon always stayed in touch with the news even into her later years, according to her granddaughter.
In reflecting on her grandmother, Tuttle described who LeBon was outside of The Maroon and her love for education.
"She was a wonderful cook. She was a wonderful gardener. She and my grandfather traveled the world. They were just very adventurous, loved life, and entertained a lot," said Tuttle. "My grandfather would invite politicians over, and my grandmother would cook amazing meals for them… They just always had a lot of fun."
Being the first female Editor-in-Chief was mentioned in LeBon's obituary upon her passing in 2016 at the age of 92.
LeBon is still celebrated at The Maroon today, 80 years after her time as Editor-in-Chief and 100 years after the paper's first issue.