Brief: Volleyball takes four set match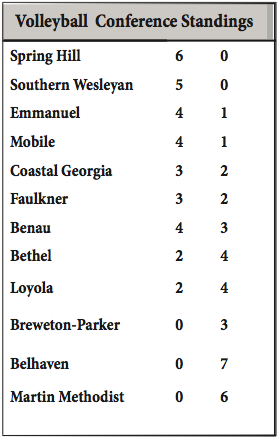 The Maroon
October 3, 2013
Loyola's volleyball team is now 4-13 after defeating Belhaven University Tuesday, Oct. 1, 2013 in the Den.
The team is now 2-4 in their Southern Statest Athletic Conference. The Wolf Pack beat won the first set 25-10, won the second set, but lost the third 23-25, and came back to win the game with a 25-20 win in the last set.
Loyola totaled 54 kills for the game with leaders mass communication sophomore Eva Allen having 16 kills and pre law history senior Sabrina Stansberry with 13.
The team played Emmanuel College and Southern Wesleyan University last week and lost both games. Emmanuel won 3-1 and Southern Wesleyan won 3-0 against Loyola.
The Pack have six in conference games left on the season. Loyola currently sits in 9th place. With the top eight teams getting into the tournament