Wolf Pack adds men's golf team in spring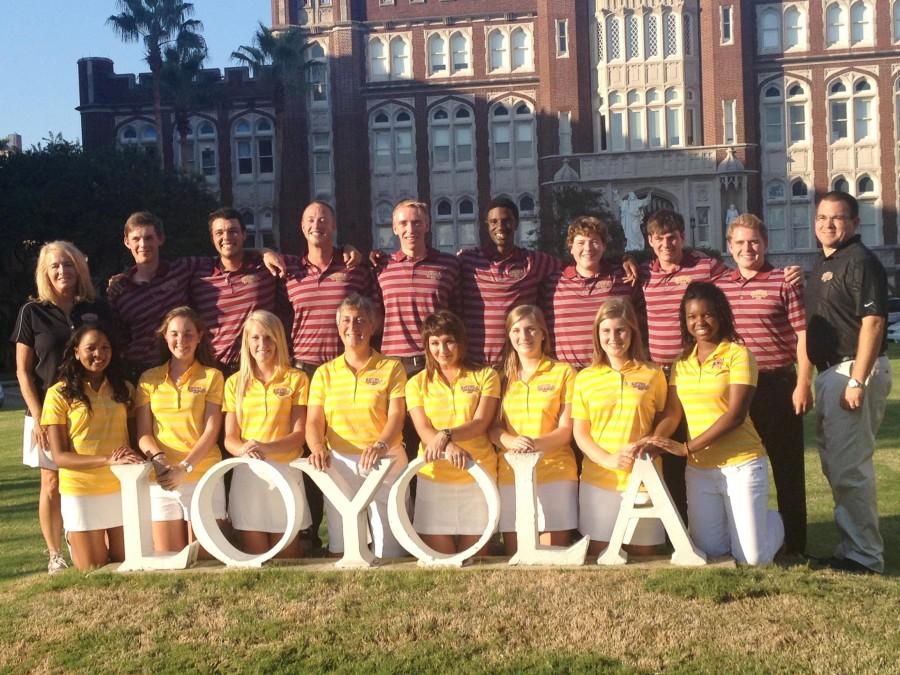 SARAH SZIGETI
September 19, 2013
The Loyola golf team is getting ready for their upcoming season, the first that will feature both the men and women competing.
The women's golf team joined the Wolf Pack in January 2013, but it wasn't a true "recruited team," Head Coach Lisa Tinkler said.
With her joining Loyola in October, the team was only able to make their spring semester schedule, not even in their division yet.
But this year, having the ability to recruit players, Tinkler is excited for the possibilities that both teams have.
"I liked to call it our short beginning, and this as our true start," Tinkler said. "And I have seen what our competition looks like, in our division, and I think the girls team will be quite strong, and successful."
Joining them with a full competitive season is the men's team. They were also recruited, which gives Tinkler the ability to help them grow, and eventually "surprise the conference," she said.
Tinkler said she believes that academics should be right next to the season on their priority level.
She has rigorous expectations for the students' grades, she said.
"I want to establish us as the team to beat, both on and off the golf course," she said. "That means we are also going to be very strong in academics. I want to be the team that the rest of the athletic department wants to beat, as far as GPA, and ultimately, someone that gets mentioned nationally, because I came from that type of background."
Marketing senior George Ramirez is the lone senior on the men's team, and knows he has to step up to show the underclassmen how everything works.
"It is strange having all underclassmen, but it's good being able to mentor them in school and on the field," Ramirez said.
Ramirez has played golf his whole life, but has never played for a high school or collegiate team. He said this is his first opportunity and is taking advantage.
Tinkler said she wants him to continue to grow in a leadership role, especially because he is interested in coaching, she said.
And with him having two years eligibility, according to National Association of Intercollegiate Athletics ruling, he will have ample time to do so.
Raven Richard, a mass communication senior, the only senior on the women's team, also has high expectations for her team and wants to watch it continue to grow.
"Last year we started out really small, and I think it was a good foundation for the team. It definitely set the attitude we wanted for future years," Richard said, "This year I hope to see top finishes in the tournaments we go to, and getting closer and bonding as a team."
That bond is something important, not only to the players but also to the coach. While golf is an individual sport, Tinkler said she made it a point to stress a good relationship between the players.
"I don't require them to be each others' best friend, but they are each others' teammate, so they're like a family," Tinkler said.
Tinkler also said that even though golf isn't normally thought of as a team sport that she wants her players to feel comfortable as a group.
"I want them to realize that even though golf is individual I stress a positive team atmosphere." she said. "It makes them want to be here. "
Sarah Szigeti can be reached at [email protected]