Alex Lorenzo leads the pack with his work ethic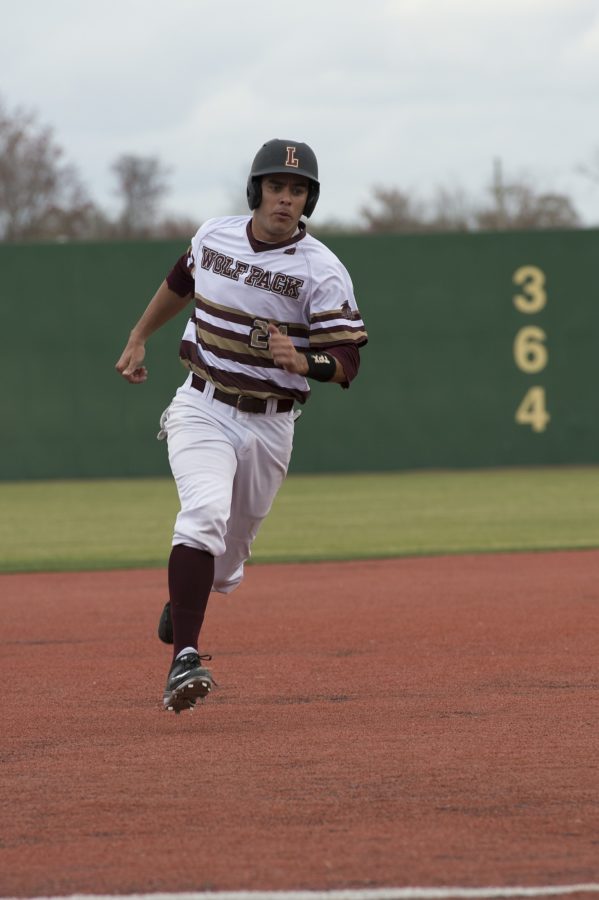 Business senior Alex Lorenzo has emerged as the leader of Loyola's baseball team in more ways than one.
Aside from leading the Wolf Pack in nearly every batting statistic, the Miami native said that he has helped guide the team off the diamond, as well.
"I feel like I really jumped into the leadership role, even last year, and this year specifically, being a senior. I feel like the younger guys really look up to me, and I try to just give them everything that I know," said Lorenzo.
Currently in his fifth season as the head coach of Loyola's baseball team, Doug Faust spoke about the progress Lorenzo has made at the plate.
"Early in his college career he had a tendency to want to pull everything. Now, he lets the ball travel and does a much better job of using the entire field," Faust said. "He has really matured as a hitter over the last couple of years."
Lorenzo has also improved his statistics since last season.
A year ago, Lorenzo's started all 55 games that the team played and finished the season with a (.293) batting average, 53 hits, six home runs and 39 RBI's.
This year, Lorenzo's statistics currently sit at a (.393) batting average, 46 hits, seven home runs and 42 RBI's.
With 17 regular season games left on the schedule, Lorenzo can top his career bests from last season.
"I feel like this has been my best year yet. I feel that primarily, my defensive statistics, and also my individual offensive statistics, have shown the fact that I have really improved over my three years here," Lorenzo said.
Lorenzo attributes his success on the field to his work ethic and mental maturation.
During winter break in December, Lorenzo was busy getting reps in with a hitting coach who has worked a lot with major league guys, according to Lorenzo. Additionally, in the summer, Lorenzo keeps himself occupied by participating in summer baseball leagues in Myrtle Beach, South Carolina.
Faust has guided Lorenzo, building his character and composure, helping him focus to become a more effective player on the field.
"Coming in, I was a little bit of a head case, just a very aggressive player. Sometimes you have to be able to really kind of hone in on that aggressiveness, and he's taught me to really calm down and use that aggressiveness in a way that can be very successful for our team. I'm just a smarter player," Lorenzo said on the way in Faust has helped him to elevate his game.
Faust's team is traversing through an up-and-down season and currently boasts a 16-20 record, a home record of 11-7, while ranking seventh in the Southern States Athletic Conference standings.
"As a team, we need to get better at 'game winning' situations. That is the situations, or points in a game, when you have a chance to really affect the outcome of the game," Faust said. "We have six one-run losses this season that if we had won, we would be having an entirely different view of our season."
A year removed from reaching the conference championship for the first time in program history, Lorenzo is determined to make a second straight appearance to the conference's postseason tournament.
"It's the only goal I have right now. Any individual accolades really don't matter to me," Lorenzo said. "This year, I don't just want to make it. I want to make it and beat some teams. That is my goal for this year. If we can do that, I'll be very happy."
With 17 games remaining, Lorenzo said that if the team makes the necessary adjustments and stays focused, there is still potential to make his dream a reality.
"There's been a few losses that have kind of separated us a little bit. I guess, being in the position that I am in, the most important thing is keeping everyone together," Lorenzo said. "If I can keep everyone focused on what the actual goal is, I am sure we will be able to make it."