Loyola hosts conversations regarding immigrant families
With immigration being a widely discussed topic across the nation, Loyola hosted an event to bring awareness to the struggles that numerous immigrant families face in New Orleans and the United States as a whole.
The Ignatian teach-in on immigration was held Sept. 20 and offered students a face-to-face experience with immigrant women who shared their stories about crossing international borders to call this country their new home. Ranging from family deportations to losing sons and husbands to the immigration prison systems, invited guests expressed their version of the American dream.
The "Mujeres Luchadoras" (Fighter Women) is a group of women who shared their experiences with the immigration system and loss of their families, possessions, and their struggles across the country. These women were also an integral part of the event, as they engaged in a roundtable discussion about the violence and uncertainty that is present their home countries.
Tania Acosta was one of the members that advocated to improve the current immigration system. Acosta's husband was recently processed and deported back to their home country. Due to the economic impact the separation had on her family, her two younger children had to move back with her husband, leaving Acosta alone in the United States as the family's sole provider.
"I joined this organization to help other women that are going through the same or worse situation than the one I am going through, and for our kids, for the future of our society," said Acosta.
Leslie Galvez, Latin American studies senior, played a major role in setting up the event on campus. She led the event through prayer, conversation and planning.
Galvez started to get involved in the community through Café con Ingles (Coffee with English), an outreach ministry of St. Anthony of Padua Church Parish. She volunteered every Sunday and mentioned that the more she attended, the more that members would open up to her, revealing their stories and struggles.
"It breaks my heart because my parents have lived in fear for 25 years as illegal immigrants. So I'm constantly looking over my back and I am constantly living in fear, so I understand what comes with that," said Galvez. "I was really excited for this opportunity because it brings those experiences and stories to Loyola."
Galvez said she hopes to bring awareness to issues that students might not always acknowledge or experience.
"We live in this beautiful bubble on campus where everything is perfect where everyone is inclusive and community family, but that is not what is happening in New Orleans or the world," said Galvez.
Catalina Espitia, political science freshman, attended the event and shared her close experience with deportation.
"I've watched one of the ladies who raised me get taken away by ICE right in front of my eyes. So I know how this process is," said Espitia. "I just want people to get educated. I want them to understand how much power a single voice hold."
About the Writer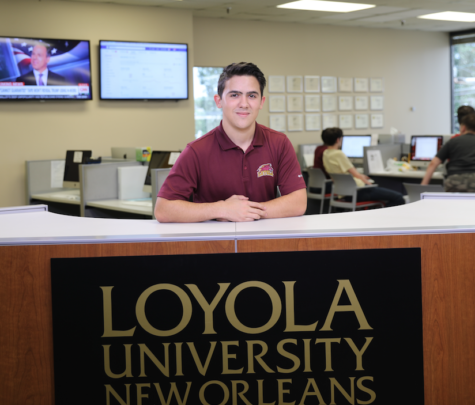 Anderson Leal, Managing Digital Editor
Anderson is a public relations sophomore.  This semester he takes on the managing digital editor position, and hopes to provide and maintain relevant...