Clown craze ends, fear remains
The "creepy clown" attacks that garnered global attention this summer and built momentum into October have effectively ended.
According to Google news trends, searches for "clown sighting" and related terms peaked at the beginning of October and have dropped down to zero as of this week.
Randy Christensen, president of the World Clown Association, told The Maroon in a phone interview that the "creepy clown" incidents had impacted real clowns, too.
Christensen described how one clown association member arrived early to a birthday party and waited in her car, and when she emerged, police converged on her. The neighbors saw her and called 911, assuming she was malicious.
Several clowns in the association received threats, even death threats, and many had difficulty finding jobs or had fall festival performances cancelled.
"We come to bring laughs, and it's sad that, in a way, that the ones that are trying to bring comic relief are the ones being bullied," Christensen said.
He said he hoped the news about clown attacks, such as a September robbery involving two clowns in Phoenix, wouldn't increase people's fear of professional clowns.
"We wish the media would stop saying a clown attacked someone," Christensen said. "We are sad to see that, because it is affecting the view of clowns of some people. Our clowns visit children in hospitals. Our clowns visit people in retirement homes."
Ariel Hall, physics freshman, said that the attacks have only made her fear of clowns worse.
"When I was in first grade, I have this vivid memory of sitting at the lunch table, and these boys told me about Stephen King's 'It' in vivid detail … and that kind of started the whole 'clowns are scary' thing," Hall said.
She said she grew more afraid in October when she saw a video of a clown attack that had been filmed near her hometown.
"The way that these demented clowns, like killer clowns, are working, they're not like humans. They're more like an actual monster," Hall said of the people carrying out the attacks. "There's sort of a lack of empathy."
She said what scares her about clowns is that they don't look human, echoing the "uncanny valley" hypothesis of aesthetics.
The hypothesis has its roots in robot design and states that people will have a negative emotional response when an engineered face looks almost human, but not quite. Clowns, puppets and dolls can evoke a similar feeling.
So while the "creepy clown" craze has ended, the fear of clowns is likely here to stay.
About the Writer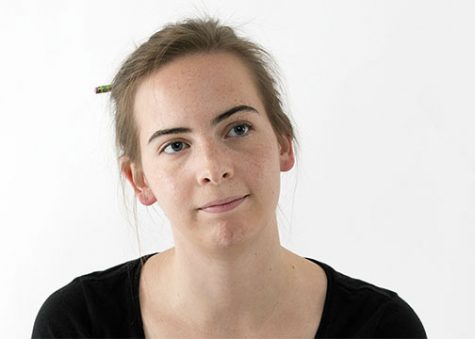 Colleen Dulle, Religion Editor
Colleen is a French and mass communication double-major with a concentration in journalism, minoring in Catholic studies and medieval studies.  Before...