Tiger Cheung is the newest international tennis talent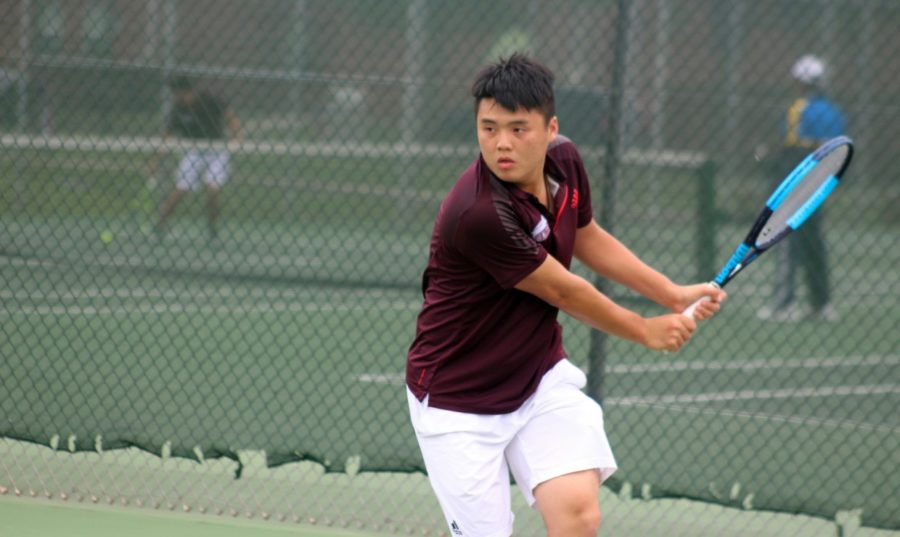 Jules Lydon
April 28, 2018
From east to west, the Loyola tennis team searches all across the globe to find their talent. For one such athlete, he came all the way from Hong Kong, China to don maroon and gold.
Freshman tennis player Tiger Cheung was one of the few people brave enough to travel 8,474 miles away from home to play college sports.
Before coming to Loyola, Cheung played for the Diocesan Boys' School. Cheung himself has played tennis for 10 years and said for as long as he can remember it has been a competitive outlet and passion.
According to Kyle Russell, Loyola tennis coach, Cheung might not have come to Loyola if it was not for the showcase camp at University of Pennsylvania this past summer. Russell worked with Cheung during the camp and, after witnessing his exceptional tennis skills, knew he needed him for Loyola's tennis team.
"Tiger brings a really positive energy to the team. He's got a great sense of humor although you wouldn't know it at first. On the court he's a beast and is not really afraid of anybody. Even though he's a freshman, he understands the game as well as anybody on the team," Russell said.
Aside from Cheung's pre-existing desire to play tennis in college, he was also won over by the Big Easy. Russell said, "(Cheung) loves the NBA and knew all about Boogie Cousins," referring to All-Star center DeMarcus Cousins.
His best recruiting pitch had nothing to do with tennis. Cheung quickly fell in love with New Orleans food, culture and, of course, its sports.
Although Cheung worried the transition would be hard due to the difference in language, he said coming to Loyola has given him the opportunity to meet new people, get more involved with the school, improve his English and learn more about the world.
Coming in as just a freshman, the future is bright for Loyola's tennis sensation according to Russell.
"Tiger is very talented. When he learns to compliment his talent instead of rely on it, he'll be a well-rounded and dangerous player. I don't think Tiger's ceiling is visible yet. He's got a lot of upside and he just needs to work to unlock it," Russell said.
Each and every day, Cheung said he takes the opportunity to become a better athlete by training himself in terms of skills and mentality.
Cheung sees a bright future at as a Wolf Pack tennis player.
"(My) goal as an athlete at Loyola is to help the team to reach the highest limit we can reach," he said. "But other than that, (I) would also like to learn how to become a leader and inspire others in a good way."
Lately, his hard work has been paying off on the tennis court. On April 20, Cheung was named Southern States Athletic Conference Men's Tennis Player of the Week. He is the first player of the week nod for the Wolf Pack men's team this season.
In a recent match against the seventh-ranked University of Mobile, he teamed up with business freshman Sean Presti for an 8-6 win at No. 2 doubles. Later, he played Nicholls State and scored a 6-2, 6-4 victory in singles.
The season may have recently closed for the team, but Cheung said he will keep training and continue raising the bar for his teammates as well as for himself.